When it comes to skin rejuvenation in Bala Cynwyd, you have some options. Radiofrequency microneedling is a new popular choice for skin rejuvenation for the face and neck! Less invasive than laser treatments and surgery, is has minimal downtime and is safe for all skin types. Vivace uses microneedling in combination with radiofrequency energy and LED lights to help stimulate collagen production.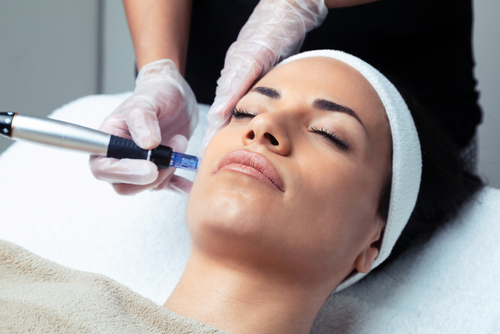 Benefits of Vivace RF Microneedling
Patients that have more than one cosmetic issue to address may prefer Vivace. It's combination of different elements makes it more effective than typical microneedling devices. Used on both the face and body, Vivace RF Microneedling helps with:
Acne scarring
Tone and texture
Hyperpigmentation
Sun damage
Pore size
Skin elasticity
Fine lines and wrinkles
How the Treatment Process Works
The Vivace RF Microneedling device has tiny, sterilized needles that prick the lower layer of the skin. Doing so triggers your body to make more collagen and elastin to heal itself. The radiofrequency that Vivace uses is much more effective than microneedling alone. The heat reaches deeper layers in the skin and helps it regenerate cells faster.
Our skin rejuvenation experts in Bala Cynwyd can complete this microneedling treatment for you. The procedure is quick, lasting around 20 minutes depending on the size of the area. One of the most considerable benefits of Vivace is that there's no recovery time. You'll need to avoid some skin products and direct sunlight for a while, but you can continue your day as usual.
Neck rejuvenation is an area where there are very few non-surgical options. Vivace is an ideal option for those looking to improve the appearance of skin on their neck.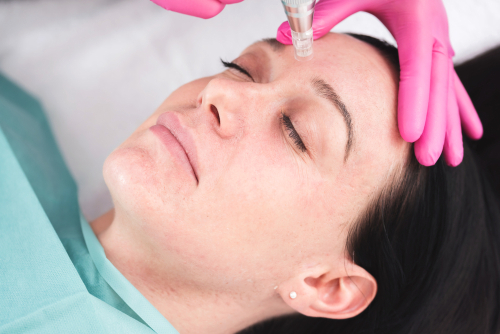 Learn More About Vivace
Every patient's skin type and goals are unique. It's important to consult with a dermatologist to decide on which options are best for you. Bala Dermatology is here to help. Reach out to our skin rejuvenation experts in Bala Cynwyd with all your questions, and we'll come up with the perfect treatment plan to achieve your desired results.
Call (610) 664-3300 to learn more about treatment options and consult with one of our dermatologists.