Warts are a common skin virus that are more of a cosmetic concern than a medical one, but they can spread if not removed. Without removal, it can take a year or two for them to go away on their own. And for some patients, the location of the wart may cause some pain or annoyance.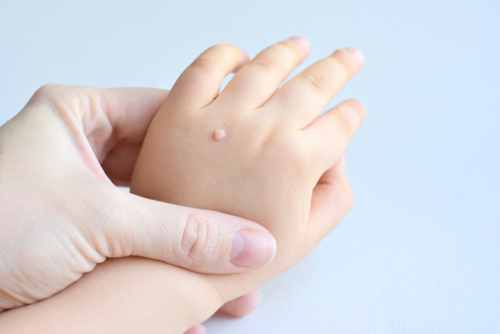 What Causes Warts
Warts appear when the top layer of the skin becomes infected by the human papillomavirus. This virus spreads easily from person to person, or to other parts of the body. While some people are less susceptible than others to contract warts, it's always a good idea to follow preventative precautions like avoiding touching warts, never sharing hygienic tools or products, and wearing footwear in public areas. Warts can grow on any area of the body, though they are mostly found on hands and feet. The Roxborough wart treatment and cause specialists at Bala Dermatology can help you determine what type of warts you are dealing with and the best way to get rid of them.
Types of Warts We Treat
While all warts are caused by HPV, not all types of warts are the same. There are five major kinds to be aware of, each affecting different parts of the body and exhibiting distinct appearances.
Common Warts: grow on the back of fingers, toes, and knees. These warts have a rough texture and grainy appearance.
Plantar Warts: grow on the soles of the feet. These have a unique appearance, as they grow into the skin instead of out of it. Plantar warts often cause discomfort.
Flat Warts: these are found on the face, arms, and thighs and have a flat top. Because they are small and typically flesh-colored, they may be more difficult to notice immediately. They commonly appear in areas where the skin has been broken.
Filiform Warts: grow on the neck and face. These are typically found around the mouth, nose, chin, and neck. Filiform warts look like skin tags and are typically painless.
Periungual Warts: occur around nails on both fingers and toes. These can be painful and affect healthy nail growth, often having a cauliflower-like appearance.
Schedule a Wart Removal Appointment
If you have warts that are painful or negatively affect your appearance, one of our wart treatment dermatologists serving Roxborough can help! We will examine the type of wart you have and its severity to determine the best wart treatment plan for removal. Contact us today to schedule your visit.